The Lifetime Achievement Award was created to recognize members who have contributed to the life and health insurance industry throughout their careers as well as contributing to their community. As insurance agents became the primary financial advisors to their clients, the scope of the award broadened. In 2004, the award was renamed the I. David Cohen Lifetime Achievement Award in honor of David Cohen who originally conceived the award and for his many years of service to NAIFA-Columbus. Duane A. Borcherding, CLU, ChFC, RICP was selected as the 2022 recipient and was recognized by NAIFA-Columbus Past President, Cort R. Bradbury (pictured with Duane below), during this year's luncheon on December 14, 2022.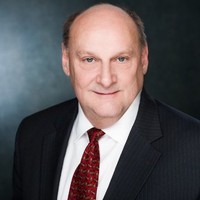 Duane Borcherding has been a Licensed Agent for New York Life Insurance Co. and Registered Representative of NYLIFE Securities, LLC. since December 2011. He has been an active NAIFA member since joining in 2004. Duane's career started in the Financial Services Industry with his initial contract with Northwestern Mutual in October 2001. Prior to that Duane has been involved in Business to Business sales with these companies: Skyline Harvestore, MiniBulk of America and CelPril Industries.
Duane's life and career philosophy has been one of service to others in the hope of helping them to achieve their life goals.
Born in Franklin County Iowa on a livestock farm. Elementary Education from St Paul's Lutheran School, High School, CAL Community, and Bachelor of Science from Iowa State University. American College Designations including: CLU, ChFC and RICP. Some of the major NAIFA activities Duane has been involved in: NAIFA-Columbus LILI Graduate2013, President of NAIFA-Columbus 2013-2014, 3 time Chair or Co-Chair of "A Day with MDRT" event. President of NAIFA-Ohio 2020- 2021. Currently serving on NAIFA-Ohio Board as immediate Past President and also serving as Regional Vice Chair for the Central Region for NAIFA National Membership Committee. He has also been a long-time member of the Westerville Area Chamber of Commerce.
Some of Duane's not so relevant but interesting facts as they relate to "Flight". Duane holds a Private Pilot License. His most recent "Concorde Flight" was on May 1997. Lastly, on November 28, 2022 Duane flew through the 2,000,000 mile mark for total miles flown on American Airlines since joining their AAdvantage Program in January of 1987.